The basic goal of SEO is to improve search engine visibility for your website. In this blog post, we'll provide you with actionable tips on how to optimize your content for the benefit of search engines, including improving your page rankings in organic searches.
What is SEO?
Search engine optimization, or "SEO," is a strategy that guarantees your website will rank higher on search engines. The better it ranks, the more people are likely to find it.
There are a lot of factors that go into SEO, including using keywords, the quality of content, and the structure of the website. By optimizing these factors, businesses can improve their chances of appearing higher on search engine results pages (SERPs).
The Different Types of SEO
SEO is an ever-evolving and complex field, with different types of SEO emerging all the time. Here are some of the most popular forms of SEO:
1. On-Page SEO: This type of SEO focuses on optimizing individual web pages to rank higher in search engine results pages (SERPs). This includes elements like page titles, headings, meta tags, and keyword density.
2. Off-Page SEO: This type of SEO focuses on factors that are external to your websites, such as link building and social media engagement.
3. Technical SEO: This type of SEO encompasses all the behind-the-scenes aspects of your website that can affect its search engines visibility, such as site speed and structure, XML sitemaps, and redirects.
4. Local SEO: This type of SEO is designed to help businesses rank higher in local search results. It considers factors like business listing optimization and online reviews.
5. E-commerce SEO: This type of SEO is specifically tailored for online stores and covers topics like product descriptions, category pages, and checkout optimization.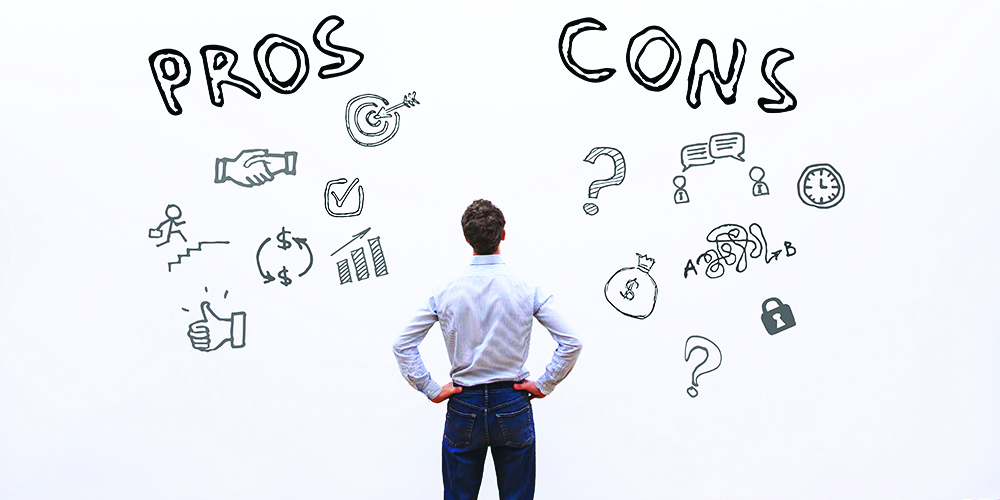 Pros and Cons of SEO
SEO can be a great way to optimize your content and help it rank higher in search engine results pages (SERPs), but it's not without its drawbacks. Here are some pros and cons of SEO to consider before you start optimizing your content:
PROS
-SEO can help your content rank higher in SERPs, which can lead to more traffic and exposure for your business or website.
-SEO can help you target specific keywords and phrases that people are searching for, which can result in more qualified leads.
-SEO can be a relatively low-cost way to drive traffic to your website or blog.
CONS
SEO doesn't happen overnight and it's not a quick fix. It takes time to implement effectively, and it can't be done overnight.
-There is no guarantee that your content will rank higher in SERPs even if you do everything right from an SEO standpoint. Search algorithms are constantly changing with the new updates that search engines constantly put out. This can cause your ranking to change, and what once was a good result might not be any longer.
-You may need to invest in paid advertising or other marketing activities if you want immediate results from SEO.
What to Include in Your Content to Optimize SEO
There are a few key things you can do to optimize your content for SEO.
First, be certain that your article includes relevant keywords. These can be ones that you think your target audience is searching for or any that are relevant to your business. To find popular keywords in your industry, use keyword research tools like Google AdWords Keyword Planner and Moz Keyword Explorer.
Next, make sure your content is well-written and free of grammar and spelling errors. Not only will this help it rank better in search engines, but it will also make it more likely to be shared and read by potential customers.
Finally, try to publish fresh and original content regularly. This will keep people coming back to your site, and it will also help you attract new readers. Posting new content also allows you to include more keywords, which can further improve your site's SEO.
How often to update Your SEO Content
SEO can be frustrating at times because it's a never-ending game. It's always adapting to what Google wants. Just when you think you've got a handle on the latest algorithm update, something else comes along to throw a wrench in your plans. So, how often should you be updating your SEO content to keep up with the changes?
As a general rule of thumb, it's a good idea to revisit your SEO content monthly. This will help make sure that your content is still relevant and keyword-optimized. However, if there are major changes to the algorithms (such as a Penguin or Panda update), then it's advisable to adjust your content accordingly.
While it may seem like a lot of work to keep up with the latest SEO trends, it's worth it in the long run. After all, keeping your content optimized will help make sure that your site continues to rank well in search results, driving traffic and leads for your business.
What not to do with your SEO Content
1. Don't try to game the system – One of the most common mistakes people make with their SEO content is trying to game the system. This includes keyword stuffing, writing, artificially inflated meta descriptions, and other black hat tactics that are designed to trick search engines into giving your content a higher ranking than it deserves. Not only will these techniques not work in the long run, but they can also get your site penalized by Google and other search engines.
2. Don't neglect on-page optimization – Another common mistake is neglecting on-page optimization. This means not taking advantage of things like title tags, meta descriptions, and proper keyword usage. These are all incredibly important for helping your content rank well in search engines, so make sure you're paying attention to them!
3. Don't forget about backlinks – Finally, don't forget about backlinks! Inbound links from high-quality websites are still one of the most important ranking factors for SEO. So make sure you're regularly creating great content and promoting it on social media and other sites to get as many high-quality backlinks as possible.
Conclusion
If you're looking to improve your content SEO, there are a few things you can do. First, make sure you're using the right keywords throughout your content. Second, structure your content in an easy-to-read format with headlines and subheadings. And finally, link to other relevant articles or websites to help boost your SEO. By following these tips, you can optimize your content for better search engine rankings and reach a wider audience.